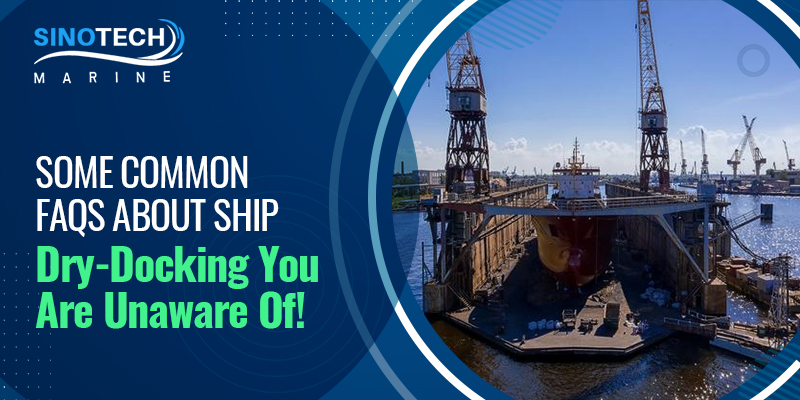 A dry-docking project, whether intermediate or special surveys, helps identify, clean and inspect submerged portions of the vessel appropriately. It is both a preventative and a regulatory requirement for the ship owners, managers, charterers and investors as placed by the industry. It may seem like a complex procedure, which is why ship owners often require certain clarifications to understand the process better. Here are a few frequently asked questions that can help understand the procedure of dry-docking better. Have a look-
Question 1: Why does a ship need dry docking?
Answer: Dry-docking refers to a procedure that enables a ship's crew to reach those areas of the vessel that can't be explored while it is sailing. The operation also aids the ship manager to assess the hull's condition and the machinery that is not accessible when the ship is in water. 
Question 2: What does a dry dock mean?
Answer: A dry dock refers to a structured area where the construction, repair and maintenance of vessels are carried out. It is a type of docking facility that is flooded to allow a ship to float inside and drains once positioned on supports. This provides shipyard workers access to the ship's hull and other areas that are exposed to seawater for a long time. No passengers are allowed on board when a ship is in a dry dock.
Question 3: What is the main difference between a dry dock and a wet dock?
Answer: A wet dock is a port area with flood gates that isolates it from tidal water movements. A dry dock can be pumped dry, allowing for hull's repair and maintenance. Although a wet dock is similar to a dry dock, the key difference is that ships while in it are kept floating in the water. 
Question 4: For how long does a  ship stay in a dry dock?
Answer: Every sea vessel is required to undergo dry-docking at least once in 5 years. The duration of a dry-docking project is around 10-14 days.
Question 5: What happens when a ship goes into a dry dock?
Answer: After the ship manager selects the dry dock for their vessel, preparations are made to place the ship in the dry dock. The ship is placed in the dry dock, and the water is pumped out. It is now ready for repairs or upgrading. After all the necessary repairs are completed, the ship is ready to exit the dry dock.
Question 6: How do ships stay upright in dry dock?
Answer: Whenever a ship enters a dry dock for dry docking, it is essential for the vessel to maintain a positive metacentric height and be trimmed by the stern. The dry dock's floor is lined with keel blocks that are arranged in such a manner so that they can bear the weight of the ship. The gates of the dock are closed, and then the water is pumped out in stages.
Question 7: Where can I get my ship dry-docked?
Answer: A maritime company undertakes dry-docking projects to assist shipowners and managers get their ships inspected & cleaned. They offer value for money services that can help you save significant money and ensure the quality and safety of your vessel. 
How can Sinotech Marine Assist in Dry Docking?
Sinotech marine has the resources and expertise required for a dry-docking project which levitates risk reduction, cost-saving and alternative options. As a leading consultancy for maritime services, we make sure our expertise helps our clients save significant money. At Sinotech, we aim to complete projects within the planned budget on time. We ensure performing dry-docking without compromising the vessel's quality and safety. 
Connect with us to know more about our ship dry-docking service.