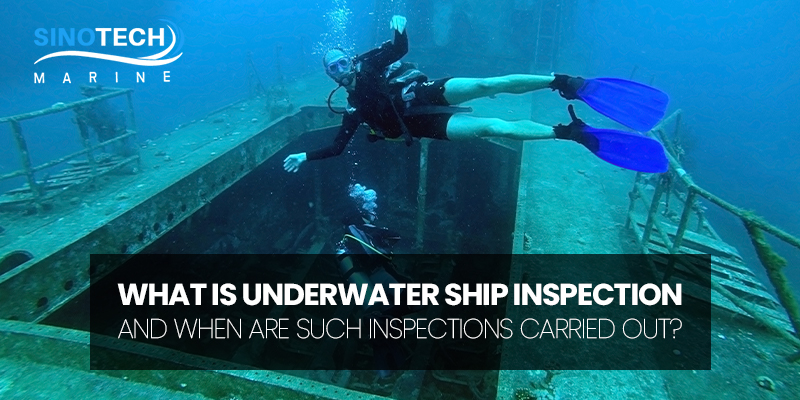 Shipping assets such as ships require numerous checks and inspections for repairs, maintenance of damages, and mitigation of risks. These inspections are carried out at regular intervals as per the strategies adopted by the ship owners. It is difficult to examine the submerged areas of a ship unless the vessel is brought to the dry dock. Since it is practically impossible, marine engineers have resorted to another way for assessing the vessel-
Underwater Ship Inspection
. 
An underwater ship inspection is a critical part of ascertaining the overall condition of a shipping asset. Shipowners need to conduct this inspection when trying to understand the condition of their vessel. Whether it is a pre-purchase scenario or a financial transaction, submerged areas of the ship should be checked for possible damage. 
Underwater ship inspections entail qualified, class-approved, trained and experienced divers that go below the waterline and inspect the submerged areas of the vessel. This practice enables shipowners, managers and financiers to detect the underlying problems and take preventive measures & remedial actions. In addition to this, as underwater inspections assist in detecting problems, they ensure that prolonged and costly repairs are avoided at a later stage.
The inspection must be carried out under the supervision of a classification society inspector who will deliver detailed insights into the underwater condition of the vessel. The situations in which ship owners connect with providers of
ship inspection service in Vietnam
for underwater inspections are-
Before the ship is to be taken for a scheduled repair

When the vessel's condition is assessed upon its sale, purchase or lease

During complicated weather conditions, while landing on a sandbank or when a vessel encounters damage after a collision with other transport objects

In cases of renewing/obtaining a license for the transportation of commodities, passengers or a permit of operation
Prior to carrying out an underwater ship inspection:
Divers are equipped with video equipment and special instruments as per the approved survey program, which will enable them to dive into the required depth.

In situations where disputable matters and detailed examination are involved, defects are captured by video recording and photography.

Examination of propellers is done thoroughly- estimation of their state, presence of corrosion on the surfaces and availability of any cracks are checked.

Repair works are carried out simultaneously with underwater inspections. This helps to extend the reliability of the vessel's operational characteristics and minimise risks to a considerable extent. 
During the inspection, the appointed inspector adjusts the divers' work and directs their actions. Part of the hull, bottom & side openings, bilge keels, welded seams and many other parts underwater are examined to check for any required repairs. With the underwater inspections, it becomes easy to detect any violations in the ship's underwater structure and eliminate them. 
Connect with Sinotech Marine for Underwater Ship Inspection
Sinotech Marine is a leading maritime company that provides cost-effective and quality underwater inspections to the marine industry. We are completely compliant with the local and international standards for safety & health. Our team of trained engineers, divers, inspectors and supervisors are dedicated to safety and getting the job done right. 
At Sinotech Marine, we assure that all services are conducted professionally as per the standards and requirements of our clients. We make use of methodologies that make the operation smooth and effective. Connect with us to know more about our maritime services.