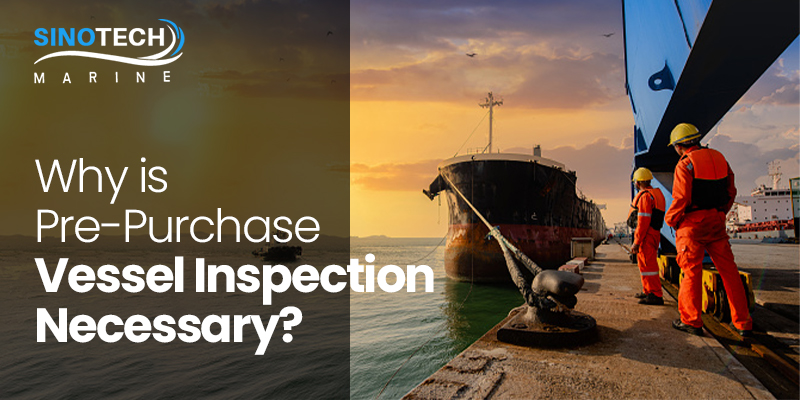 Everyone who has purchased a pre-owned shipping asset is aware that there can be hidden defects or problems in the vessel. Therefore, they opt for pre-purchase inspections of their acquisitions before investing in the asset. 
A pre-purchase inspection is carried out by ship inspectors on behalf of potential buyers, banks, insurance companies and investors as a part of their due diligence requirements. 
Buying a recreational boat or a commercial vessel is a huge and hefty investment. It can be overwhelming for any first-time buyer. There are various things to consider, questions to ask, elements and equipment to review, especially when a second-hand vessel is being purchased.
Therefore if you are a first-time buyer looking forward to purchasing a ship, don't worry! We at Sinotech Marine can help take some of this stress off your shoulders. Here's a walkthrough of all the details you need to know before making an informed decision –
What Can You Expect from a Pre-Purchase Inspection?
A pre-purchase inspection of a sea vessel involves a rapid examination afloat of all areas readily accessible to ascertain the present condition of the ship. With a pre-purchase ship inspection, a potential buyer can know the accurate condition of the sea vessel. The inspection is performed by highly trained and professional boat surveyors who know where the hidden problems could be lurking. It helps you to make the most informed choice of vessel.
Why Get A Pre-Purchase Inspection?
A pre-purchase inspection is carried out as it helps the potential buyer to make an informed decision. The assessment provides an independent evaluation of a ship and helps the buyer to demonstrate the vessel's operational reliability. In addition to this, the inspection also assists in the early identification of deficiencies which aids in maximizing the vessel's use and minimising unplanned maintenance. 
What All is Included in a Pre-Purchase Inspection? 
A pre-purchase ship inspection service in Singapore includes inspecting the running gear, outdrives, hull's health, the machinery of the deck, cargo spaces, other vessel machinery and equipment. A typical pre-purchase inspection usually involves examining the vessel visually followed by reviewing its performance records. After the vessel is inspected properly, you will receive a certified report with which the inspection will end. Based on the inspection report and condition of the vessel, you can assess the commercial viability of your acquisition.
How Much Time Does it Take to Complete the Pre-purchase Inspection?
Since a pre-purchase ship inspection involves visual examination, it can be completed in no more than a day. It usually takes around 10-12 hours to carry out the inspection. 
How can Sinotech Marine Help?
Sinotech Marine provides a professional pre-purchase ship inspection service in Singapore for pre-purchase assessment of pre-owned shipping assets. We follow a data-driven approach to provide a thorough vessel condition assessment that enables our clients to invest in the right shipping assets. We have a large team of inspectors who are strategically located across 74 countries, allowing us to deliver the service with high efficiency. We provide standardized inspection reports which bring reliable and accurate assessment of vessel conditions to our clients. Therefore, if you wish to assess a shipping asset before investing in it, connect with us today.